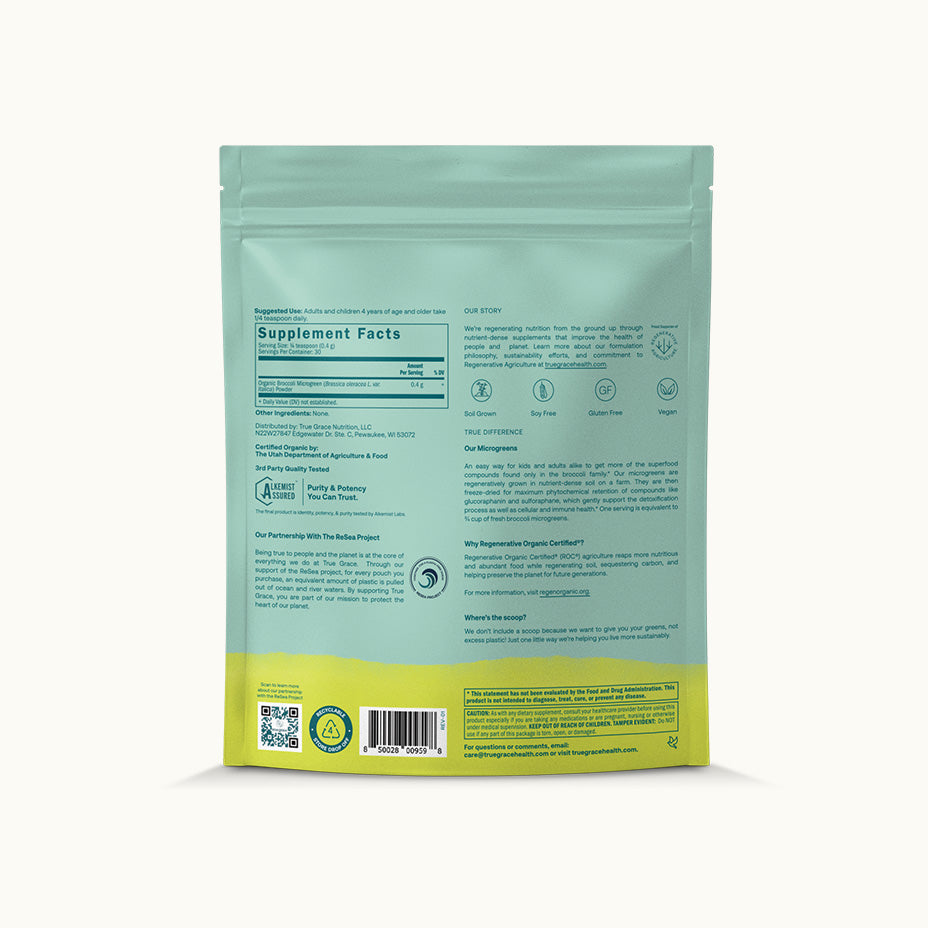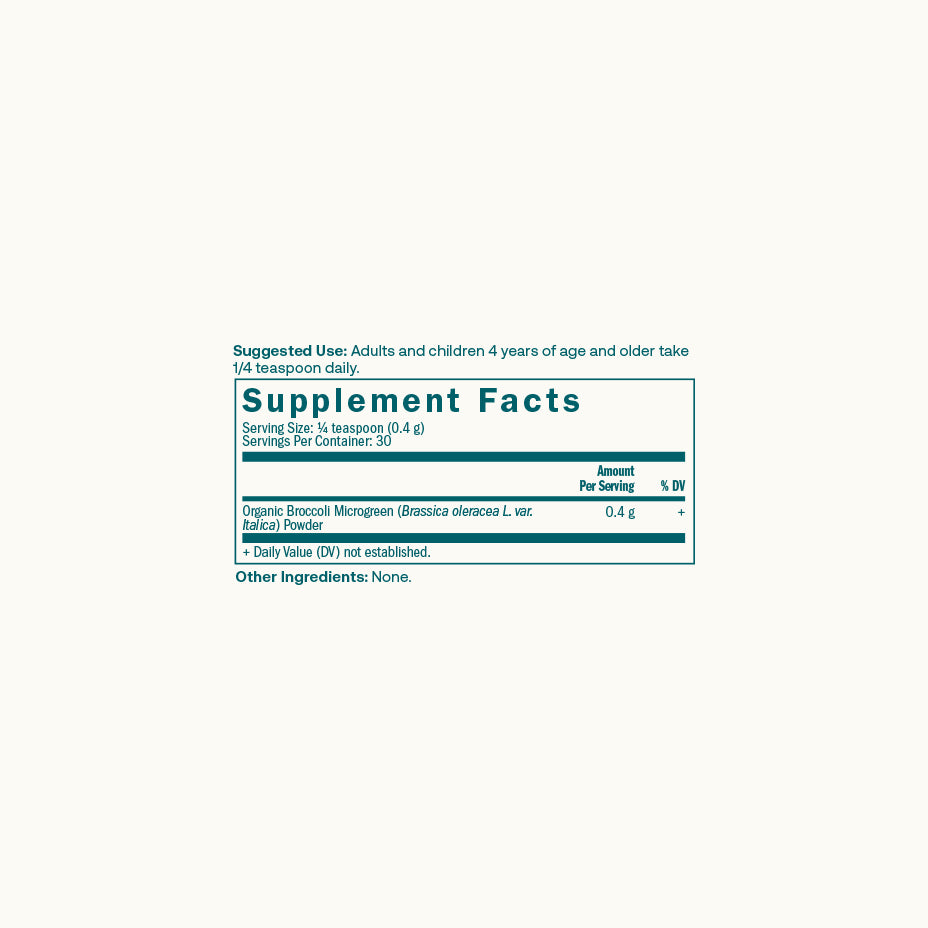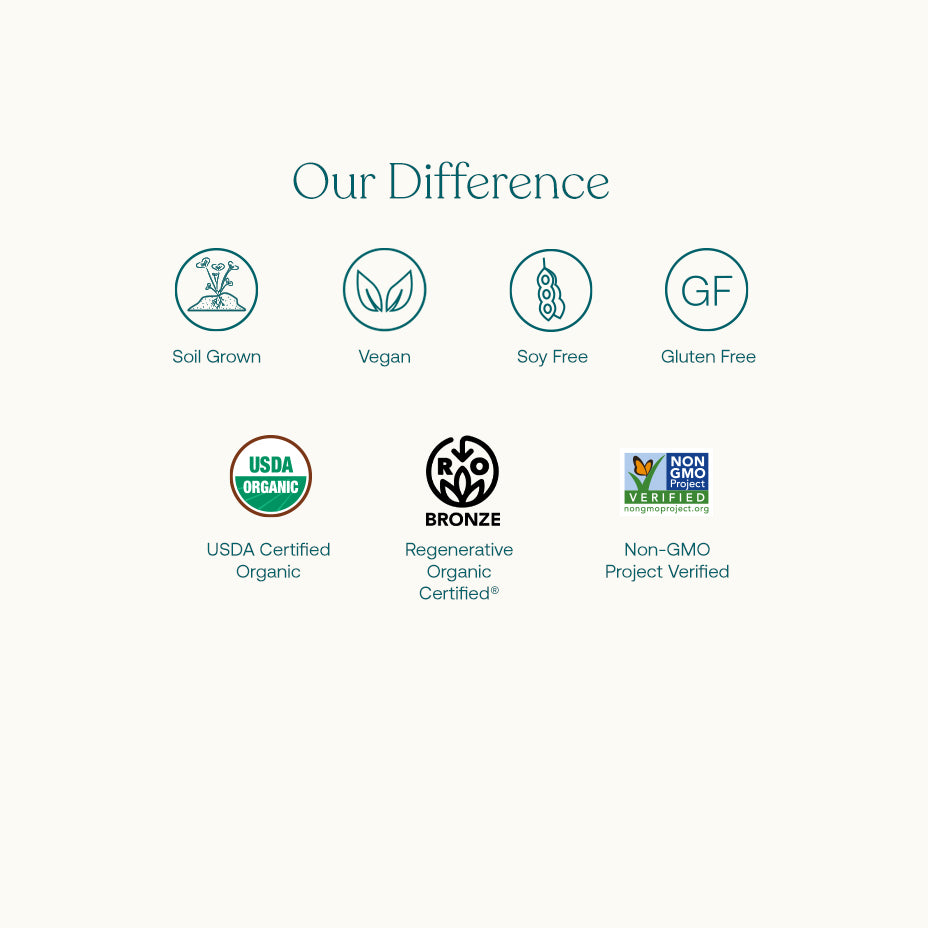 Superfood Powder
Broccoli Microgreens
Sale price

$38.95

Regular price

$35.06
$38.95
Daily Superfood for Cellular and Immune Health* 
Regenerative Organic Certified

®

(ROC

®

)

Grown in

nutrient-dense soil

on a farm

 

Freeze-dried for

maximum phytochemical retention

*

 

Gently supports the

detoxification

process

*

 

No fillers or additives

—

just broccoli microgreens 

 

Alkemist Assured™

—

Purity & Potency You Can Trust

 

Great for adults & children
Suggested Use
Adults and children 4 years of age and older take ¼ teaspoon daily.
True Difference
True Grace ROC® Microgreens are an easy way for kids and adults alike to get more of the superfood compounds found only in the broccoli family—specifically glucoraphanin and sulforaphane, which gently support the detoxification process as well as cellular and immune health.*
But wait—what is a microgreen?
You may have seen a microgreen before, most likely used as a garnish on your favorite restaurant dish. You probably even brushed it aside, not knowing you were tossing away the most nutrient-dense part of your meal. Microgreens are edible seedlings of vegetables and herbs. They're used primarily in the restaurant industry to embellish cuisine because of their intense flavors, vivid colors, and crisp textures. Based on peer-reviewed studies, microgreens are 2 to 10 times more nutrient dense than their full-grown counterparts. Microgreens are harvested when the seed-leaves have fully expanded and before true leaves have fully emerged, between 7 to 21 days after germination.
Why Regenerative Organic Certified®?
Our microgreens may be tiny, but the way they're grown makes a big difference for the health of people and planet.
Regenerative Organic Certified® (ROC®) agriculture produces more nutritious and abundant food while regenerating soil, sequestering carbon, and helping preserve the planet for future generations.
ROC® means healthier soil. Healthier soil means more nutrient-dense plants. More nutrient-dense plants mean healthier people!
Why soil grown?
We grow our microgreens in nutrient-dense soil rather than hydroponically (in water). This means they absorb nutrients to nourish the plant and nourish you. Those immune-supportive phytochemicals we mentioned—glucoraphanin and sulforaphane?* They are created by the plants through metabolism of nutrients in the soil.
Why freeze-dried?
Our microgreens are freeze-dried to preserve the glucoraphanin and sulforaphane. Getting a meaningful dose of these compounds through your diet alone can be tough … unless you like to eat a whole lot of broccoli microgreens.
The trouble is, fresh microgreens begin spoiling within days of being purchased. This means they're at risk for contamination and nutrient loss. Our freeze-dried microgreens lock in the phytochemical content for maximum benefits—and they last for months. Just ¼ teaspoon added to any food or drink gives you the equivalent of ¾ cups of fresh microgreens!*
True Transparency
We're on a mission to regenerate people's health through nutrient-dense supplements. We do this with intention and transparency.
We start by being tireless in our sourcing. We partner with selected growers so we know who they are and how they grow.
At True Grace, our microgreens are sourced from our Regenerative Organic Certified® farm partners. ROC® represents the highest standard for organic agriculture in the world, with stringent requirements for soil health, animal welfare, and social fairness.
Many other microgreens out there are grown hydroponically. That might sound impressive, but they don't have the beneficial compounds of soil-grown microgreens.
Our transparency goes way beyond our initial careful sourcing. We're also rigorous in our testing. We want you to be sure that the final product is just as pristine as the raw microgreens we start with.
We work with Alkemist Labs, an independent, accredited botanical testing lab, to test the purity, potency, and identity of our microgreens. That's why you see the "Alkemist Assured" symbol on our bottles. It tells you the microgreens inside have been checked by scientists, so you can be confident you're getting exactly what's on the label.
With True Grace, you can be confident in the product you're taking. This is true transparency.
Key Ingredients
Broccoli microgreens have been shown in studies to gently support the detoxification process — aka the natural way your body eliminates toxins every day. Broccoli microgreens also support cellular and immune health.*
This superfood contains naturally occurring compounds known as glucoraphanin and sulforaphane. Sulforaphane tells your body to get detoxing by activating a protein called Nrf2. (Nrf2 controls genes that protect your cells from oxidative stress and more.) Glucoraphanin is the precursor to sulforaphane — and it can also activate Nrf2 and a bevy of protective benefits.*
Soil Grown
Vegan
Soy Free
Gluten Free
USDA Certified Organic
Regenerative Organic Certified®
True Assurance
All our microgreens undergo extensive third-party testing at Alkemist Labs. Regulation says we don't have to do this much testing; many companies don't. We do because of our commitment to integrity.
You deserve to know that any microgreen you're putting in your body has been identified correctly and is uncontaminated. If we've made a batch of powdered microgreens available for you to buy, it's passed every single test. That's what quality is all about.
What we test for
ADULTERATION Passed
IDENTITY Passed
POTENCY Passed
MICROBES Passed
HEAVY METALS Passed
By submitting, you represent that you have read and agree to our Terms and Conditions and our Privacy Policies. Product reviews are provided for informational purposes only and reflect solely the views and opinions expressed by the contributors and not those of Life Extension. We do not verify or endorse any claims made in these reviews.