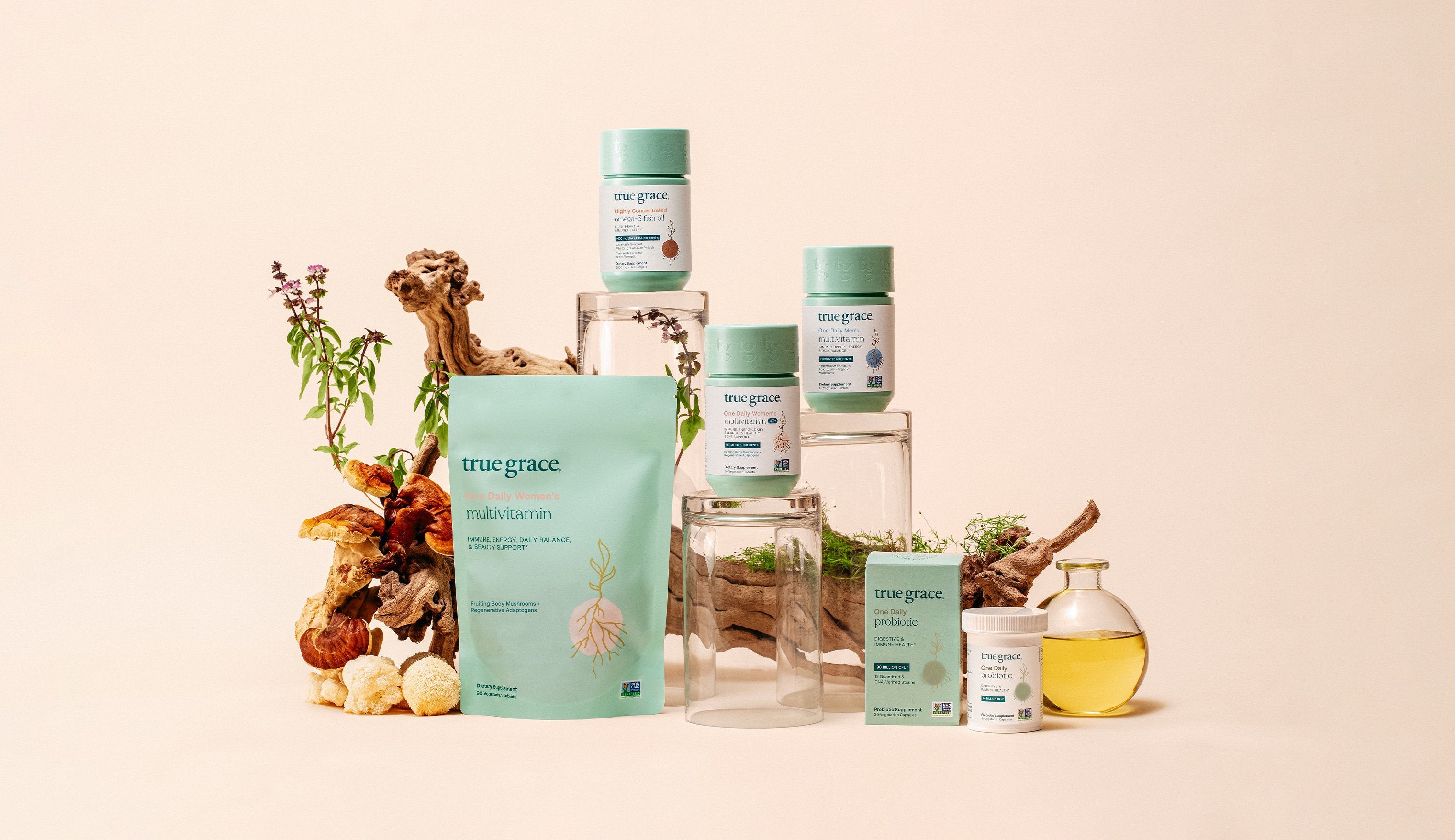 At True Grace, we think supplements should do more. That's why we're making sure they do.
True Grace is regenerating nutrition from the ground up in two major ways:
We're creating nutrient-dense supplements for your health.*
We're choosing ingredients that help protect the planet. We use sustainable, organic, and regeneratively grown ingredients wherever possible because they're good for the earth's health (and for yours*).
Everything we're rolling out, from our packaging to our giveback program (which funds regenerative agriculture initiatives), springs from the goal of having a positive impact on both you and the planet.
Our Mission
We want to provide nutrient-dense products that regenerate the health and well-being of people and planet.
It's a lot to tackle, but with you on board, we know it's possible.
"My passion for nourishing the body is equaled only by my dedication to protecting the planet for future generations. That's why I founded True Grace." - Kristina Hall, Founder & CMO
Product Highlight:
True Grace Omega-3 Fish Oil is the sustainably sourced, highly concentrated EPA & DHA supplement you've been looking for. It's also the most bioavailable form of fish oil you can get: the "true triglyceride" form.
Made with:
Wild Alaskan Pollock to support brain, heart, and immune health.*
True Grace One Daily Probiotics are delivered in patented vegetarian DRcaps® to provide protection from stomach acid, allowing the probiotics to survive digestion and reach the intestinal tract. (If our probiotics had a soundtrack, it would definitely be "I Will Survive.")
Made with carefully selected probiotic strains combined in specific, effective ratios—including this strain:
L.rhamnosus GG to support respiratory, intestinal, and digestive health.*
What are "regeneratively grown ingredients"?
Regenerative agriculture is a different way to farm. It protects and creates soil instead of degrading and destroying it—because unfortunately, soil degradation is a big issue with many modern forms of agriculture. Soil is the source of food's nutrients, so better nutrition really starts with better soil!
Regenerative agriculture strives to leave soil as covered and undisturbed as possible.
A variety of crops are grown in rotation, which provides the essential nutrients to support a healthy soil microbiome.
Farming like this doesn't just put the brakes on soil degradation. It actually creates carbon-rich soil and sustains life on this planet. This is regeneration.
To put it simply, regenerative agriculture = better food. (Because nutrient-dense soil gives us nutrient-dense plants!)
What makes True Grace's packaging sustainable?
We're all about reducing the use of virgin plastics and the size of your carbon footprint.
Our bottles are made of 100% post-consumer recycled (PCR) material, with the exception of the probiotic bottles, which are specially manufactured to extend the probiotics' shelf life.
We also offer most of our supplements in pouches (as opposed to bottles) and run a pouch refill program. When you opt for our pouches instead of buying a whole new bottle every time you purchase supplements, you reduce the amount of plastic you use and your carbon footprint. That's the definition of a win-win.
To top it off, we're also certified CarbonNeutral®!
Join us on our journey to regenerate nutrition from the ground up. Welcome to True Grace.
*These statements have not been evaluated by the Food and Drug Administration. These products are not intended to diagnose, treat, cure, or prevent any disease.
1 Probiotics may help boost mood and cognitive function - Harvard Health
2 Health effects of probiotics on the skin - PubMed (nih.gov)
3 Probiotics, prebiotics and synbiotics for weight loss and metabolic syndrome in the microbiome era - PubMed (nih.gov)
4 Bifidobacterium bifidum R0071 results in a greater proportion of healthy days and a lower percentage of academically stressed students reporting a day of