Why 'Fingerprinting' Probiotics is Essential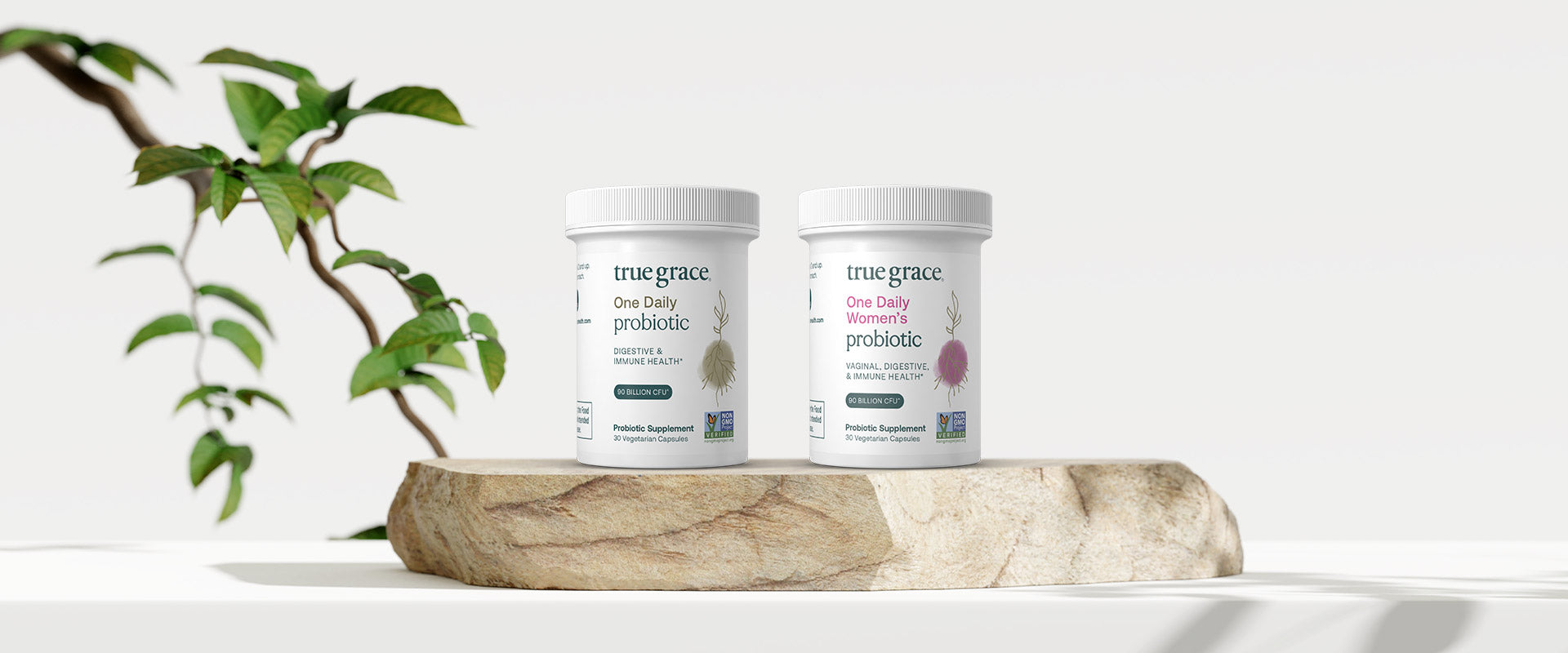 Our probiotics are the first in the world to be Purity-IQ certified. Here's why.
When you hear "DNA testing" or "fingerprinting," you probably think of a true crime podcast or an episode of CSI. You probably don't think of probiotics.

At True Grace, we're hoping to change that. We believe that taking a forensic approach to testing and ID-ing probiotics is the only way to give you true assurance that you're getting a consistent, authentic product.

Think about it. There are thousands of probiotic products out there. They're all supposed to contain billions of CFU (colony-forming units) of "good" bacteria that support everything from digestive health to vaginal health.* But how can you be sure you're getting the exact strains of good bacteria you've been promised—and in the same quantities from bottle to bottle?

The short answer is: You can't be sure. That is, until now.
Welcome to transparent probiotics
When you look at a bottle of True Grace probiotics, you'll notice a symbol of a fingerprint that says "Purity-IQ – Certified Authentic." We're the first company in the world to get Purity-IQ certification for our probiotics, and that's kind of a big deal.

Like us, Purity-IQ is all about transparency. They specialize in rigorous testing and certification processes for natural health products. The Purity-IQ certified symbol instantly tells you that every batch of our probiotics is tested for consistency and has the identity of each ingredient verified by Purity-IQ's state-of-the-art labs.

Why we get third-party testing

Why is it so important to verify each strain is present and consistent across every batch of our probiotics? A couple of reasons:
Different probiotic strains have different health benefits.* You need every single strain we've promised on the label in order to experience the health benefits we highlight.*
Each probiotic strain's benefits are dose-dependent.* That's why all our probiotic products include specific strains at the doses shown to be effective in clinical studies.* We tell you those doses (expressed as a percentage of total CFU) right on the label.
Here's another way to think about it. Let's say you want to get more leafy greens in your diet, so you start ordering a green smoothie every morning at a local smoothie bar. The server tells you this smoothie's got six cups of six different kinds of leafy greens in it. But one day you actually glimpse them making the smoothie, and the only greens that go into it are two sad leaves of spinach.

Do you think that "green smoothie" is actually doing you much good—or worth the money?

Thanks to Purity-IQ, we can guarantee the purity and authenticity of our probiotics. And that means you can expect a consistent, health-supportive experience when you take them.

It takes more than one type of testing to be sure

We've partnered with Purity IQ because they offer the highest level of transparency through cutting-edge technologies. They use specialized testing to verify our probiotics for authenticity and purity: molecular DNA genomic testing and Nuclear Magnetic Resonance (NMR) spectroscopy.
DNA testing ensures that all 12 of the individual probiotic strains that are meant to be in our probiotic products are correctly identified and present.
NMR spectroscopy is a way of testing not just for what we want to find in our probiotic products, but instead to get a clear picture of everything that's in these products. In other words, it's non-targeted testing. It ensures that every new batch of our probiotics is the same as the last one. (Remember: consistent formulations mean a consistent experience for you.)
Together, these tests give True Grace probiotics a unique "fingerprint." By testing our probiotics against this fingerprint again and again, we can give airtight assurance to you.

Ready to try the world's first Purity-IQ certified probiotics?
*These statements have not been evaluated by the Food and Drug Administration. This product is not intended to diagnose, treat, cure, or prevent any disease.