Nourishing the Soul at Finca Luna Nueva Lodge in Costa Rica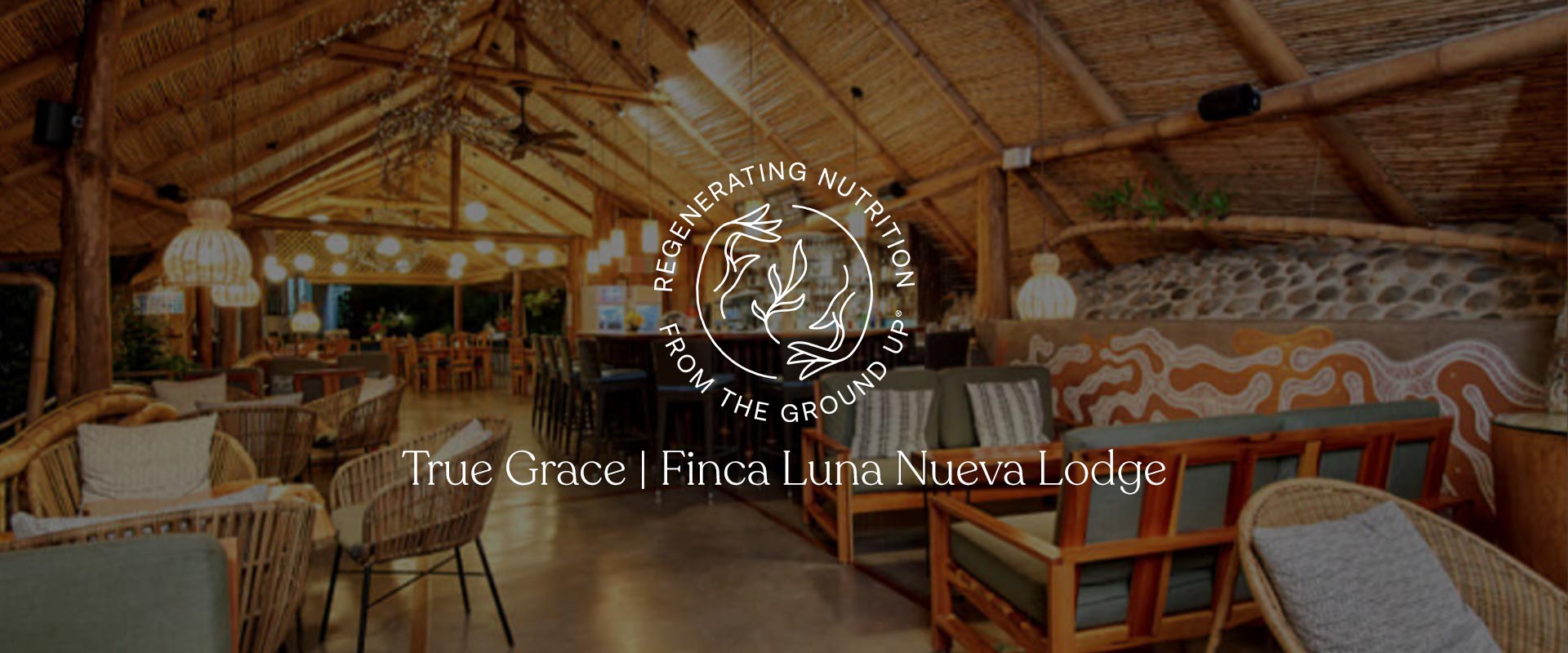 In the heart of Costa Rica lies a hidden gem, Finca Luna Nueva Lodge. Nestled amidst vibrant rainforests and breathtaking landscapes, this regenerative agriculture learning center and ecolodge has become a haven for those seeking to deepen their understanding of regenerative agriculture and reconnect with nature. Recently, Finca Luna Nueva had the privilege of hosting our True Grace executive leadership team (Kristie Hall, President & Owner, Brian Hall, CEO, and Sara Newmark, COO). Together, they embarked on a transformative journey, working to further their mission of regenerating nutrition from the ground up.

Finca Luna Nueva Lodge holds a special place in the hearts of True Grace, as it is owned by our board member, Tom Newmark who is also father of Sara Newmark, True Grace's Chief Operating Officer.

At Finca Luna Nueva Lodge, the pursuit of knowledge and continuous learning lies at the core of their mission. This commitment to growth resonated deeply with True Grace, prompting them to choose this destination for their annual executive retreat. The lodge provided the perfect backdrop for the True Grace team to immerse themselves in the world of regenerative agriculture.

During their stay, the True Grace team dedicated hours to exploring the intricacies of the farm, engaging in thought-provoking discussions, and challenging their existing notions. The farm-to-table experience offered at Finca Luna Nueva perfectly mirrored the farm-to-bottle values championed by True Grace. By witnessing the entire process firsthand, from cultivation to consumption, they gained additional appreciation for the impact that regenerative farming can have on both people and planet.

Regenerative agriculture is a multi-faceted approach to farming that regenerates the soil giving us nutrient dense crops. These beautiful crops grown on the Finca Luna Nueva farm were prepared in meals that the True Grace team enjoyed together during their stay. This experience served as a powerful reminder that regeneration can permeate every aspect of our lives, fostering holistic well-being and healthy lifestyles.

As Tom Newmark, Scientific & Agricultural Board member of True Grace and owner of Finca Luna Nueva Lodge, reflects on the transformative experience, he shares, "Hosting True Grace at Finca Luna Nueva was a beautiful convergence of our shared values. Witnessing the team's dedication to learning and their enthusiasm for regenerative agriculture reaffirmed the importance of our mission to nourish both people and the planet."


The True Grace team's visit to Finca Luna Nueva Lodge in Costa Rica was a transformative experience that fortified their commitment to regenerative agriculture and sustainable living. Immersed in the beauty of nature and surrounded by the wisdom of regenerative practices, they deepened their understanding, challenged their thinking, and found new inspiration to further their mission. As we reflect on their journey, we are reminded that regenerative agriculture is not merely about tending to the land but also nurturing our spirits, fostering connections, and embracing a way of life that harmonizes with nature. Pura Vida!